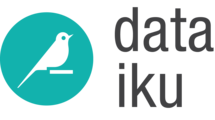 Inside Data Science Internship
Description
We are looking for a Data Science/Business Analyst Intern to join Dataiku in our Paris office for a 4/6-month internship.
You will work with the customer success team to apply data science methodology to our own data. We want to develop some in-house projects to have a better understanding of our customers and how they use DSS.
The internship will consist in:

- Uncovering insights on our customers' uses from Dataiku DSS logs.
- Building models to predict usage, anomalies or even discover new opportunities.
- Developing webapps to explore these models.
- Being there to support the Data Science team on all of their customer projects.
Requirements
You are our ideal candidate if:

- You are comfortable coding with python and javascript
- You know that bagging and boosting trees is not about gardening
- You don't just want to observe correlations with success, but actually cause it
- You want to work in a startup environment.
Benefits
At Dataiku we believe in fostering an inclusive environment in which employees feel encouraged to share their unique perspectives, leverage their strengths, and act authentically. We know that diverse teams are strong teams, and welcome those from all backgrounds and varying experiences. We believe in taking care of our employees, eating great food, having a sense of humor, getting things done, and always putting the customer first (except in this list).