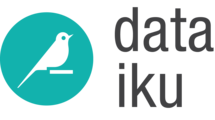 Sales Development Representative (London)
Description
As a Sales Development Representative at Dataiku, you will work closely with the Sales & Marketing Teams to identify target prospects and customers through a variety of online research methods. You will perform analysis of inbound and outbound prospects' business and engage with these prospects by phone and/or email.
The purpose of this outreach is to set up introductory calls with target influencers and decision makers. In turn, your job is to make sure a majority of these calls become qualified opportunities for Dataiku Account Executives in the UK & Ireland.
In order to do this job well, the Sales Representative must be analytical, metrics driven, and able to identify business challenges and articulate the Dataiku value proposition to prospects. Professional judgment that allows you to carry conversation with C-Level and VP level executives at Fortune 500 companies is also a must.
Previous experience in outbound marketing, cold calling, sales pitches, prospect research, general business development, and selling enterprise software is preferred.
Requirements
Work closely with Sales management to develop and define a strategic target list of key accounts
Kick-start the beginning of the sales process by cold calling and prospecting potential Dataiku clients
Develop creative tactics, campaigns, and strategies to reach target prospects; schedule qualified discovery calls with said target prospects; generate qualified meetings for Account Executives following preliminary qualification
Record and track all activity in Hubspot to provide background and next steps for the Marketing Department, SDR, and Account Executives to ensure alignment of teams as well as effective follow up with prospects
Collaborate with the sales team and marketing management to refine the sales process
Sell when possible DSS remotely to SMBs over the phone (1 or 2 accounts per year)
Benefits
Dataiku is widely recognized as one of the best tech startups in the French Tech ecosystem. In September 2017, we raised a $28M Series B led by Battery Ventures to push our products to new heights and deploy internationally. Since February 2017, we have been named a Visionary by Gartner for Data Science Platforms. We have a great working atmosphere, centered on openness and friendliness.
Why Dataiku ?
High-growth startup, backed by a NYC-based VC
THE best product ever (Yes, we love our product, No, we are not biased ;-))
Brillant, passionate, hard-working & humble colleagues (despite the above comment)
Entrepreneurial spirit at every level of the company
Real opportunity to grow within the company
Cool office (Aldgate WeWork with a Ping Pong table, basketball hoop)