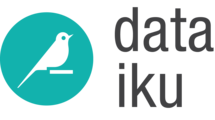 Description
We are looking for an experienced front-end developer to join Dataiku's R&D team. You will work on building DSS, a cutting-edge product that has a real impact on our customers. We help thousands of data analysts and scientists work faster and better, enable them to cooperate and solve the hassles of data engineering.
DSS is an on-premise application with a web front-end. Dataiku DSS is essentially written in Java, Python and Javascript. Our frontend mostly uses AngularJS, less and d3.js. You will have the opportunity to work on a large Single Page Application where performance and modularity are everyday concerns.
As a front-end engineer, you will have a strong focus on the usability and performance of our web interface. You will work both on the numerous new features we add at each release and improving existing parts of DSS based on the feedbacks from our users. You will also work in ensuring that all of our frontend can be automatically tested for best reliability.
Requirements
This is a full-time position, based in Paris, France.
You are the ideal recruit if:
You are a front-end engineer, know the ins and outs of Web applications, yet are not afraid to dig into the backend code if need be (for better efficiency, front-end developers often modify or extend CRUD APIs to get the data exactly as they need it).
You know a bit more to debugging than console.log
You browse the Web with your developer console open
A first experience (either professional or personal) building a real product is required. Some experience with visualization libraries (D3, Sigma or similar), and modern front-end frameworks (AngularJS) is also desirable.
Benefits
Dataiku is widely recognized as one of the best tech startups in the French Tech ecosystem. In September 2017, we raised a $28M Series B led by Battery Ventures to push our products to new heights and deploy internationally. Since February 2017, we have been named a Visionary by Gartner for Data Science Platforms. We have a great working atmosphere, centered on openness and friendliness. We also have great office space in the center of Paris (Bonne Nouvelle) with free breakfast, coffee, and much more!
Dataiku processes your data for recruitment purposes only. We store these data in our Applicant Tracking System, Workable which is fully compliant with EU data protection laws, and we will not share it with anyone else. You will find information about our compliance with GDPR on our website.