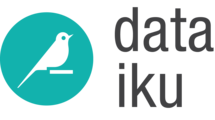 Account Executive - San Francisco
Description
Dataiku is looking for an experienced Account Executive to join our sales team in the Bay Area.
Since the launch of our company in the US, we have experienced healthy growth and steady market demand. This individual contributor position is a new position due to business expansion, with responsibility for an extensive Northern California territory.
We're looking for someone who can express passion about the new technologies and possibilities of Big Data and Advanced Analytics.
The role consists of engaging prospects and customers on the topics of their Big Data and Advanced Analytics initiatives and to help them develop a more efficient approach, leveraging our platform. The Sales Executive is responsible for the entire sales cycle, while being able to leverage various company resources, to reach a successful collaboration with the prospect.
Dataiku is a young company with great momentum and at this early stage, the Account Executive is likely to work cross functionally with Marketing, Product Management and Engineering.
Requirements
Required Skills
5+ years experience in software field sales
Strong belief in a customer centric selling philosophy and applying a consultative approach in customer interactions
Background in selling innovation and new concepts to large Enterprises
Strong ability to develop a vision match with prospects and customers, to develop alignment across different groups and cultivate champions.
Good articulation of competitive positioning
Travel 30 to 50%
Desired Skills
Experience in 'data' – big data, analytics, data science, BI/DW, data integration
Early start-up experience
Benefits
Opportunity to join Dataiku early on and help scale the company
Competitive compensation package, equity, health benefits, and paid vacation
Trips to Paris (our European HQ)
Opportunity to work with a smart, passionate and driven team
Dataiku has a strong culture based on key values: Ownership, Passion, Autonomy and Friendliness
Dataiku is an end-to-end collaboration platform that is revolutionizing how data science teams from 5 to 500 people work together to create and share insights from big data. Our software is designed to be the one place where everyone in the data science process works together: it's as powerful for PhD data scientists as it is for Business Analysts as it is for Dev Ops engineers as it is for IT professionals. Our customers include companies like L'Oreal, NPR, and Capgemini. We raised our Series B in September 2017 with Battery Ventures, a preeminent New York VC fund known for their dominance in the data science space. We're growing really quickly (more than doubling every year), and we're building out our global presence with amazing team members in France, the US, the UK, the Netherlands, and Singapore (with more locations on the way). We're looking for really talented, smart, kind, and genuinely curious individuals to work alongside us.