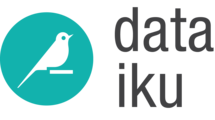 Account Executive - London
Description
THE COMPANY
We are a computer software company developing data science software marketed for big data. Our collaborative data science platform enables data scientists, analysts and engineers to explore, prototype, build and deliver their own data products more efficiently. After New York, San Francisco and Paris, Dataiku expanded to London during June 2017. Since the launch, we have experienced a strong product market fit and steady market demand. Thanks to our expanding business, we have a new vacancy for an individual to have responsibility for an extensive territory.
THE POSITION
Dataiku is looking for an experienced Account Executive to join our sales team in the UK and Ireland. We're looking for someone who can express passion about the new technologies and possibilities of Big Data and Advanced Analytics. Dataiku is a young company with great momentum and at this early stage, the Account Executive is likely to work cross functionally with Marketing, Product Management and Engineering.
The role consists of identifying and engaging prospects and customers on the topic of their Big Data and Advanced Analytics initiatives and to help them develop a more efficient approach, leveraging our platform. The Account Executive is responsible for the entire sales cycle, with the goal of delivering a successful partnership with the prospect, by leveraging various company resources, to reach a successful collaboration with the prospect.
You will have the following core responsibilities:
Identifying prospects with Big Data and Advanced Analytics initiatives through your own network, LinkedIn and events.
Interacting with our ecosystem of partners
Engaging with prospects to uncover their goals and understand their challenges
Creating strong relationships with prospects for them to become champions of our product
Showcasing Dataiku's product to prospects
Studying the market (potential, competitors, trends)
Managing evaluations of Dataiku's product with the Tech teams
Leading commercial discussions as well as procurement and legal processes
Defining a strategy to achieve the annual target
Reporting activity to management
Requirements
The following skills, attributes and experience are essential for the role:

Master's degree
Significant experience in Sales, Data and Analytics (internships excluded).
Experience in selling Analytics Software
Experience with procurement processes
Work experience in startups
Fluency in English required. Fluency in French desirable. An additional language is a plus.
Deep knowledge of our Product Data Science Studio (Certification Level 1 is required) and the Big Data and Advanced Analytics ecosystem
Extensive understanding of online marketing for business development (Google Adwords certification can serve as proof)
Trained in Consultative Sales Methodologies (ex: CCS, MEDDIC, SPIN...)
Please email your CV and covering letter explaining how you meet the criteria explained above.
The closing date for applications is February 11th, 2018.
Benefits
Salary package : £40,000 plus uncapped commission based on target