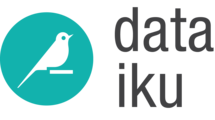 Technical Recruiter (Paris)
Description
We're looking for a Technical Recruiter to join Dataiku.
Dataiku's HR team is looking for a driven Technical Recruiter with experience of working in a fast-paced target driven environment. The suitable candidate will directly contribute to the end to end hiring of individuals for accross our offices in Europe.
Ensuring that Dataiku has the right people in the business is critical to our future success. As such, this vacancy plays an important role in supporting a recruitment drive within our Data Science, Sales and R&D functions. This is a diverse role that will include overseeing advertising, directly sourcing via LinkedIn and other channels, screening, running assessment centres, getting involved in meetups and more.
Responsibilities :
Develop research to map our markets and generate candidate names and profiles; create and execute robust search strategies that will attract the best and brightest talent.
Use the best tools and talent pools wherever possible to help us source the best passive candidates.
Continually contribute to the knowledge base of the team, sharing new information about industries and talent pools or profile types.
Develop prospects into candidates. Engage, sustain relationships, screen and interview.
Conduct the first assesment of all candidates and drive the full recruitment process in partnership with the team.
Host briefing meetings and participate in scoping discussions.
Strategic watch on new sourcing techniques, market activity, external market trends, and majors events, etc. Always share knowledge with the team is part of our culture.
Requirements
1 year of experience recruiting top engineering and technology talent
Be familiar with tech environment as well as being able to "talk tech" and screen for candidates with relevant technical skills
Experience in pro-active candidate acquisition using a variety of tools and methods
The ability to work towards deadlines and in a fast paced environment
Fluent in French & English - international recruitement experience is a plus
Perseverance to find only the best, never give up on strong potential talents in order to build a team of A-player
Experience partnering with senior hiring managers to close candidates of various levels of seniority
Creativity, mental flexibility and adaptability
Excellent relationship building skills, you are able to tailor your speech to each person you meet
A true service mindset and passion for Dataiku's missions are essential. We are really excited to work here, and you should be too!
Benefits
High-growth startup, backed by a NYC-based VC
Amazing product (Yes, we love our product, No, we are not biased ;-))
Brillant, passionate, hard-working & humble colleagues (despite the above comment)
Entrepreneurial spirit at every level of the company
Cool office
You will be part of a great adventure, joining a young company with great momentum and a promising future