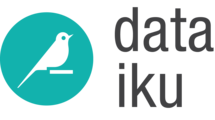 Implementation Manager - UK
Description
Dataiku is looking for an Implementation Manager to join the team. The ideal candidate is an energetic individual who is passionate about deploying big data technologies and using data science to solve business problems, and who will efficiently help customers drive their projects to get the most out of Dataiku DSS.

As a part of the Data Science team, the Implementation Manager is responsible for driving smooth client implementations of our product.

As an Implementation Manager, you:
Effectively project-manage the delivery to our clients of Dataiku's suite of professional services. Such services include assisted software installation, customer training/coaching, and co-development of data science projects with our customers
Maintain consistent and concise internal communication across multiple teams
Build and maintain relationships with key partners, both within Dataiku and among our customers
Ensure customer satisfaction throughout the implementation process
Contribute to the standardization of our implementation processes while Dataiku continues our rapid growth
The goal is to set up our customers for success using Dataiku DSS from day one. Your skilled coordination of their deployment, training, and adoption of best practices will position them to derive the maximum value from the software, contributing to their data-driven operational success.
Requirements
2 years + of experience in advanced analytics or data science projects
Demonstrated implementation management skills including: leadership, communication, customer management; experience providing customer training is a plus
An interest in staying up to date on the latest techniques (Python, R, Scala, Hadoop, Spark, H2O, SQL…); experience in enterprise data projects and familiarity with advanced analytics technologies is a plus
Ability to explain data science concepts. You must be technically-minded, but you don't have to be an engineer to do well here
Organized, process-oriented, and resourceful
Bachelor's degree required; PMP certification or similar training is a plus
Benefits
Opportunity to join Dataiku early on and help scale the company
Competitive compensation package, equity, health benefits, and paid vacation
Opportunity to work with a smart, passionate and driven team
Dataiku has a strong culture based on key values: Ownership, Passion, Autonomy and Friendliness

Dataiku is an end-to-end collaboration platform that is revolutionizing how data science teams from 5 to 500 people work together to create and share insights from big data. Our software is designed to be the one place where everyone in the data science process works together: it's as powerful for PhD data scientists as it is for Business Analysts as it is for Dev Ops engineers as it is for IT professionals. Our customers include companies like L'Oreal, NPR, and Capgemini. We raised our Series B in September 2017 with Battery Ventures, a preeminent New York VC fund known for their dominance in the data science space. We're growing really quickly (more than doubling every year), and we're building out our global presence with amazing team members in France, the US, the UK, Germany, the Netherlands, and Singapore (with more locations on the way). We're looking for really talented, smart, kind, and genuinely curious individuals to work alongside us.
Dataiku processes your data for recruitment purposes only. We store these data in our Applicant Tracking System, Workable which is fully compliant with EU data protection laws, and we will not share it with anyone else. You will find information about our compliance with GDPR on our website.