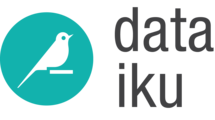 Global Customer Success Manager
Description
Dataiku is looking for a Global Customer Success Manager to join the team. The ideal candidate is an energetic individual who is passionate about solving business problem using data science and big data technologies, and who will efficiently help customers drive value by getting the most out of Dataiku DSS.
As a part of the Data Science team, the Global Customer Success Manager engage with clients to understand their goals and matches these with Dataiku DSS' capabilities in order to drive business value. She/He acts as a trusted advisor to foster not only adoption of the software but also appropriate and productive use of the product's features.
As a Customer Success Manager, you:
Develop a deep understanding of customers' context
Help clients to translate the business use cases they are trying to crack into data science solutions
Provide genuine assistance to users by advising on how to leverage Dataiku DSS to implement data science projects, from design to production
The goal is to ensure customers success to build a win-win relationship that :
Fosters customer renewals
Helps Sales Teams to enlarge Dataiku footprint
Requirements
Experience in enterprise data projects and familiarity with advanced analytics technologies but more importantly an interest in staying up to date on the latest techniques (Python, R, Scala, Hadoop, Spark, H2O, SQL…)
Willingness to share experience and knowledge to empower people
Capability to ask the right questions and to listen to customers to truly understand their needs
Ability to communicate ideas, and explain data science concepts
French is not required and all European languages are appreciate
Benefits
Opportunity to join Dataiku early on and help scale the company
Competitive compensation package, equity, health benefits, and paid vacation
Trips to Paris (our European HQ)
Opportunity to work with a smart, passionate and driven team
Dataiku has a strong culture based on key values: Ownership, Passion, Autonomy and Friendliness
Dataiku is an end-to-end collaboration platform that is revolutionizing how data science teams from 5 to 500 people work together to create and share insights from big data. Our software is designed to be the one place where everyone in the data science process works together: it's as powerful for PhD data scientists as it is for Business Analysts as it is for Dev Ops engineers as it is for IT professionals. Our customers include companies like L'Oreal, NPR, and Capgemini. We raised our Series B in September 2017 with Battery Ventures, a preeminent New York VC fund known for their dominance in the data science space. We're growing really quickly (more than doubling every year), and we're building out our global presence with amazing team members in France, the US, the UK, the Netherlands, and Singapore (with more locations on the way). We're looking for really talented, smart, kind, and genuinely curious individuals to work alongside us.