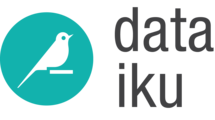 Marketing Manager - Partnerships
Description
We are looking for a sharp, highly motivated individual to join our marketing team as Marketing Manager, focused on growth & marketing for our expanding partnerships business.
Help scale and amplify our partnerships with global technology and solutions partners to drive meaningful impact to Dataiku You will work closely with our Partnerships team and with external partners on co-marketing campaigns, growth strategy, and marketing initiatives.
This is an opportunity to be part of a all-star team at the center of a globally-strategic initiative for Dataiku. You'll be working on campaigns and activities end-to-end, from ideation and planning through to development and execution, whilst working in alignment with marketing counterparts, partnership/business development managers and sales. A proven creative, organized, collaborative approach to work will set you apart from your peers.
Requirements
Experience executing highly successful go-to-market strategies in an innovative tech / digital business with a strong concentration in partnership co-marketing.
Comfortable working with ambiguity, prioritizing efforts, and building a plan to execute against growth.
Strong project and relationship management - you'll spend a lot of time working with external partners and their teams to successfully launch and grow these partnership
Ability to work cross-functionally - you'll interact daily with our Partnerships team, Business Development, Data Scientists, Marketing, and Leadership, to get your job done
A comfort level of delivering material for both internal and external stakeholders - This means building quick recaps, as well as creating and presenting polished executive level presentations
Eagerness to roll up your sleeves and dig-in to the grittiness of problems
3 - 5 Years marketing experience at high growth companies
Benefits
Opportunity to join Dataiku early on and help scale the company
Competitive compensation package, equity, health benefits, and paid vacation
Trips to Paris (our European HQ)
Opportunity to work with a smart, passionate and driven team
Dataiku has a strong culture based on key values: Ownership, Passion, Autonomy and Friendliness
Dataiku is an end-to-end data science collaboration platform that is revolutionizing how teams work together to create and share insights from big data. Our software is designed to be the one place where everyone in the data science process works together: it's as powerful for PhD data scientists as it is for Business Analysts as it is for Dev Ops engineers as it is for IT professionals. Our customers include companies like L'Oreal, GE, NPR, Capgemini, Kuka Robots, Unilever, Sephora, BNP Paribas, and many more. We raised our Series B in September 2017 with Battery Ventures, a preeminent New York VC fund known for their dominance in the data science space. We're growing quickly (more than doubling every year), and we're building out our global presence with amazing team members in France, the US, the UK, the Netherlands, and Singapore (with more locations on the way). We're looking for really talented, smart, kind, and genuinely curious individuals to work alongside us.