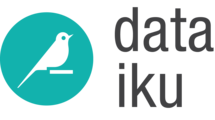 Description
User experience is at the forefront of how we create our product at Dataiku. In the UX Designer role, you'll take on complex concepts and transform them into intuitive, accessible and easy-to-use designs for our rapidly growing international customer base — from first-time users to technical experts. Achieving this goal requires collaboration with our Engineers, Product Managers, Data Scientists, and Customer Success team throughout the design process - from creating user flows and wireframes to building UI mockups and prototypes. At each stage, you will anticipate what our users need, advocate for them and ensure that the final product is delightful, coherent and engaging.
RESPONSIBILITIES
Understand the needs of data scientists, analysts and actors in the continually evolving big data sector.
Acquire knowledge of data science and machine learning concepts.
Partner with Engineers, Product Managers, Data Scientists and Customer Success to define problems & goals, map user flows, prototype interactions and create new features.
Design and execute tests, workshops and interviews that evaluate user behaviour and attitudes.
Document and uphold the visual guidelines of an evolving design system.
Requirements
At least 3 years of experience in product design with projects that demonstrate the quality of your work.
Excellent communication and listening skills: research is an important part of your process.
Fluent spoken English
Eagerness to learn and grow
Strong collaboration skills: you're ready to work with people of different backgrounds and skillsets.
Autonomous and versatile: you're a self-starter capable of identifying problems and proposing solutions.
Low and high fidelity prototyping experience (Sketch, Marvel, Adobe, InVision…)
Optional: front-end development and/or statistical modelling skills
Benefits
Based in Paris, London and New York, Dataiku is developing and selling Data Science Studio.
Dataiku DSS is an ergonomic and comprehensive data science platform that caters to the needs of both junior and advanced data scientists. Dataiku is recognised as one of the successful startups of the French Tech ecosystem. In 2017, we raised 28 million euros in Series B to recruit and develop internationally.


We're looking for really talented, smart, kind, and genuinely curious individuals to join our team.
Thank you for joining your CV, a portfolio and your salary expectations.