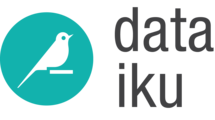 Description
Dataiku is looking for an experienced Account Executive to join our sales team in the UK and Ireland. After New York, San Francisco and Paris, Dataiku expanded to London this June. Since the launch, we have experienced a strong product market fit and steady market demand. Thanks to our expanding business, we have created a new position for an individual to have responsibility for an extensive territory.
We're looking for someone who can express passion about the new technologies and possibilities of Big Data and Advanced Analytics.
The role consists of engaging prospects and customers on the topic of their Big Data and Advanced Analytics initiatives and to help them develop a more efficient approach, leveraging our platform. The Account Executive is responsible for the entire sales cycle, with the goal of delivering a successful partnership with the prospect, by leveraging various company resources, to reach a successful collaboration with the prospect.

Dataiku is a young company with great momentum and at this early stage, the Account Executive is likely to work cross functionally with Marketing, Product Management and Engineering.
Requirements
Required Skills
5+ years experience in software field sales
Strong belief in a customer centric selling philosophy and applying a consultative approach in customer interactions
Background in selling innovation and new concepts to large Enterprises
Strong ability to develop a vision match with prospects and customers, to develop alignment across different groups and cultivate champions.
Good articulation of competitive positioning
Travel 10 to 20%
Desired Skills
Experience in 'data' – big data, analytics, data science, BI/DW, data integration
Early-stage start-up experience
Benefits
You will be part of a small team responsible for developing a market with huge potential
Dataiku DSS is an innovative, state-to-the-art product which has already demonstrated product market fit
Dataiku has a strong culture based on key values: Ownership, Passion, Autonomy and Friendliness
You will be part of a great adventure, joining a young company with great momentum and a promising future
Upload your photo
Please provide an image in PNG, JPG or JPEG format.